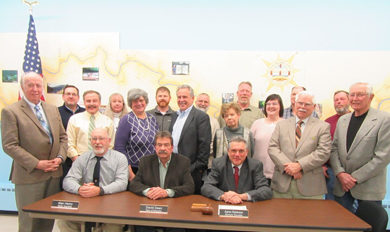 NARROWSBURG – The Upper Delaware Council, Inc. (UDC) announces the availability of its Fiscal Year 2018 Annual Report on the non-profit organization's website at www.upperdelawarecouncil.org.
The 17-page report covers the federal fiscal year period of October 1, 2017 to September 30, 2018.
It includes a description of the UDC's mission and management structure, provides the membership roster and staffing, and lists activity highlights for the UDC in the following categories:
• Presentations
• Outgoing Letters
• Public Outreach (Annual Awards, Raft Trip, UDC News Releases, "The Upper Delaware", Festivals & Events)
• UDC Grant Programs (Technical Assistance Grants and River & Shoreline Clean-up Grants Program)
• Special Meetings & Activities
• Water Use/Resource Management Issues
• Project Review Issues
• Operational Issues
• Directory of Resolutions
The Council posts the document on-line to save on printing and distribution costs. It is available for review and/or download under "Publications."
To request a printed copy, please stop by the office at 211 Bridge Street in Narrowsburg, NY, call (845) 252-3022, or e-mail UDC Secretary Ashley Hall-Bagdonas at ashley@upperdelawarecouncil.org.