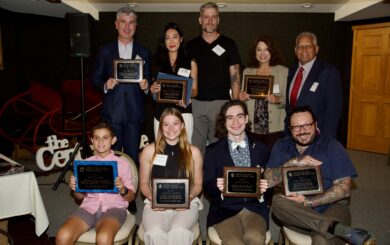 Caption: Seated from the left: Sam Macri; Corrine Hinton; Liam Mayo; Dan Santoro. Standing: John Pizzolato, Jin Zhang and Dave Lieber, Carmen and Juan Rigal.
NARROWSBURG – The Upper Delaware Council (UDC) welcomed 91 guests to its 34th Annual River Valley Awards Ceremony on September 18 at Central House Family Resort in Beach Lake, PA.
U.S. Congressman Matt Cartwright (PA-8th District) delivered the keynote address at the banquet before the presentation of 10 awards.
A keepsake program with profiles and photos featuring each honoree is available on the Publications page of the UDC's website.
This year's awards slate included:
Distinguished Service Award ~ William J. "Bill" Rudge, New York State Department of Environmental Conservation and State of New York UDC representative (retired Feb. 25, 2022).
Robin M. Daniels Memorial Lifesaving Award ~ Sam Macri, age 11, of Ramsey, NJ for his August 29, 2021 swimming rescue of his younger brother on the Upper Delaware River.
Community Service Award ~ John Pizzolato of Barryville, NY for his volunteer leadership roles benefiting numerous local and regional organizations and causes.
Cultural Achievement Award ~ Dave Lieber and Jin Zhang for historic preservation and rehabilitation of the circa 1879 Cochecton Pump House.
Cultural Achievement Award ~ Juan and Carmen Rigal of Rock Tavern & Lake Huntington, NY, for operating the former Nutshell Arts Center through 2021.
Recreation Achievement Award ~ Corrine Hinton of Easton, PA for her National Park Service Upper Delaware Scenic and Recreational River new water safety poster designs.
Recreation Achievement Award ~ Dan Santoro of Hawley, PA, for his organizing river and highway litter clean-ups in northeast PA.
Volunteer Award ~ Cameron Forehand of Avondale, PA, for creating 27 new pages at www.nps.gov/upde on natural resources subjects.
Special Recognition Award ~ Liam Mayo of Narrowsburg, NY for his local journalism work with The River Reporter and WJFF Radio Catskill.
Oaken Gavel Award ~ Jeff Dexter of Damascus Township, PA, for his 2021 UDC chairperson leadership.
For more information on the 2022 River Valley Awards, please contact UDC Executive Director Laurie Ramie at 845-252-3022 or laurie@upperdelawarecouncil.org.