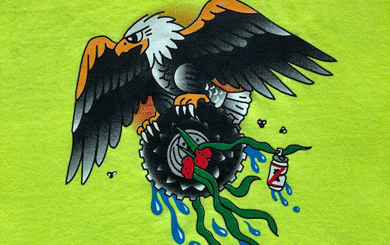 NARROWSBURG – Participants in the Upper Delaware Council (UDC) member towns of Fremont, Delaware, Cochecton, Tusten, Highland, and Lumberland can earn free t-shirts and receive clean-up materials to pitch in with Sullivan County's Fall Roadside & Trail Litter Pluck through October 31.
With the Sullivan County Legislature's decision to extend its Spring Litter Pluck that offers free disposal at its garbage and recyclables transfer stations, the UDC will follow suit with a second formal round of its Upper Delaware Litter Sweep which had occurred April 22-30.
Those interested in focusing on the Upper Delaware River Valley's roadways and trails may contact the UDC to request trash bags, gloves, returnable grabber tools, and safety-colored 2022 t-shirts to keep featuring a fierce eagle avenging litter in available sizes.
The UDC office at 211 Bridge Street in Narrowsburg (next to the firehouse) also has a supply of Sullivan County Litter Pluck disposal coupons to distribute.
In announcing the decision to "keep this terrific momentum going", Sullivan County Director of Parks, Recreation and Beautification Brian Scardefield said, "The Spring litter pluck was a huge success. Participants removed from the roadsides and trails throughout Sullivan County approximately 450 bags of litter and over 150 tires."
To make arrangements with the UDC, please contact Ashley Hall-Bagdonas at 845-252-3022 or ashley@upperdelawarecouncil.org to provide the number of people, t-shirt sizes, supply needs, and intended pick-up locations.