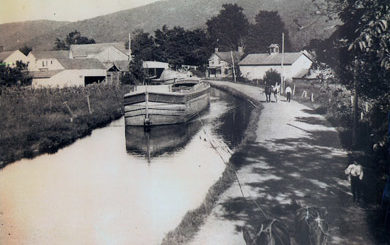 MINISINK FORD – Reservations are being accepted on a first-come, first-seated basis for a historic bus tour following the route of the Delaware & Hudson Canal from Roebling's Delaware Aqueduct to Port Jervis, NY on Saturday, November 2.
Forty-four seats are available at a cost of $55 per person, which includes round-trip transportation, guided narration at five walkable stops, light breakfast snacks, lunch with gluten-free options at Foundry42+ in Port Jervis, and a viewing on the return trip of the newly-released DVD titled, "The Delaware & Hudson Canal Co.: Its History and Legacy – Chapter Three, Roebling Bridge to Port Jervis". The approximately 17-minute video will be immediately available for purchase to help support the Conservancy's volunteer preservation and trail-building work.
The tour will begin at 9:30 a.m. and conclude at approximately 3 p.m.
Guests will park and meet the bus at the Eagle Observation Blind roadside pull-off area in the Town of Highland along the New York State Route 97 Upper Delaware Scenic Byway, located 0.7 miles south of the Roebling Bridge that connects Minisink Ford, NY to Lackawaxen, PA.
The trip itinerary includes a tour of the iconic Roebling's Delaware Aqueduct owned by the National Park Service (NPS) Upper Delaware Scenic and Recreational River, including the D&H feeder canal and Lock 71, and stops at the NPS Corwin Farm Ranger Station, the Mongaup dry dock, Lock 58 at the Mongaup, and canal remnants in the Town of Highland.
This will be the second bus trip sponsored by the D&H Transportation Heritage Council. The first trip from Carbondale, PA to the Roebling Bridge held on April 29, 2018 sold out quickly and prompted arranging a repeat date on May 6.
The trip will proceed rain or shine. Please dress appropriately for early November weather and wear comfortable shoes for walking. Cancellations after October 25 will not be refunded. A waiting list will be started if the 44 seats fill to capacity.
To reserve, please send your name(s), address, email, and phone number, along with a check payable to "D&H Conservancy" with a memo notation for "Nov. 2 Bus Tour" to: D&H Conservancy, 119 Mandy's Road, Westtown, NY 10998.
For more information, please email D&H Transportation Heritage Council President Cliff Robinson, Jr. at robmech@outlook.com.
Copies of the Council's Delaware & Hudson Canal Co. series of DVDs produced by Bollinger & Rutter Video and Production Services – including "Chapter One: The Gravity Railroad" and "Chapter Two: Honesdale to the Delaware River" – can be purchased for a $10 donation each at the Wayne County Historical Society's main museum at 810 Main St., Honesdale, PA, call (570) 253-3240 or place an order via www.WayneHistoryPA.org.